Book Reviews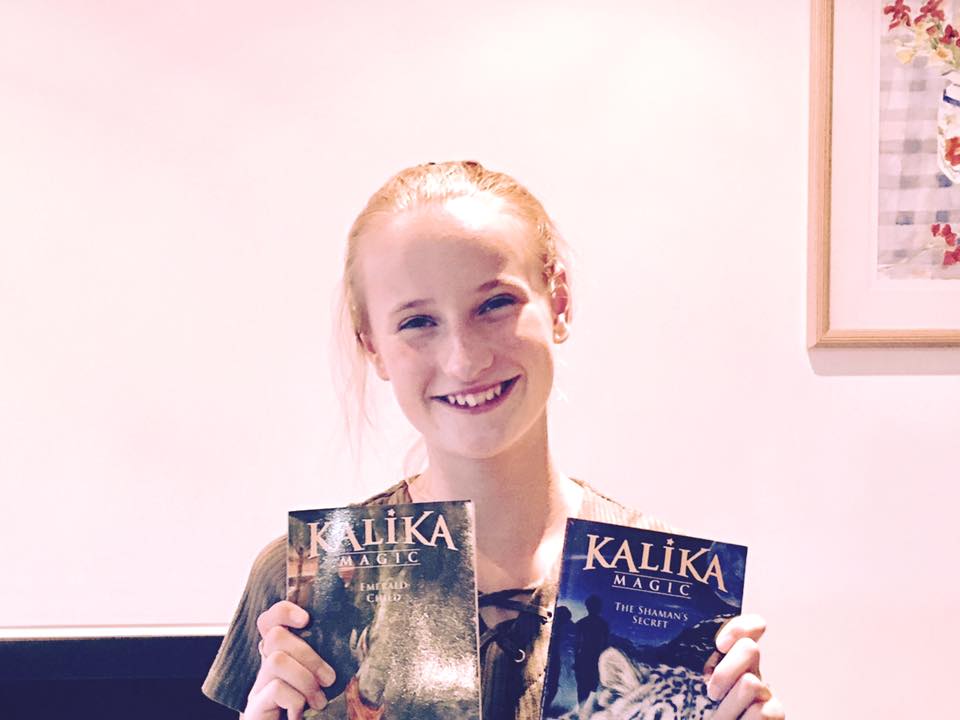 'Hughes has done a brilliant job crafting a story that no doubt will capture young fantasy lovers and their parents alike. Indie is a wonderful, strong, capable girl—something I'm always excited to see in books meant for young readers—her supporting cast is fun and memorable and the adventure whisks you away from start to finish.
It reminds me of all the Studio Ghibli movies I watched as a kid, which is what make me think kids today would really enjoy it. It's clean enough to be age appropriate, yet just dangerous enough to feel like there's real weight behind characters' choices. It's whimsical and fun, but clever enough to treat kids like they're smart.'
Tay Laroi, Truth About Books
'… an engrossing tale of magic and mystery. The Shaman's Secret is well worth unlocking.'

'Chilling. Haunting. Mysterious. The Kalika Magic series delves into the world of fantasy, adventure and magical realism, underpinned by a foundation of sheer grit, determination and strong relationships. Karen Hughes began her mystical series for middle grade readers with Emerald Child, followed by The Shaman's Secret, The Sorrow of the Waters, and most recently, The Howling Sands. Fourth in this eight-part collection, The Howling Sands takes us on an exciting yet treacherous journey through and between enchanted realms and arduous climates in a bid to save a land from destruction.
The story follows a group of children – known as the five children of the prophecy, and other minor characters, on an epic mission to find the missing Shaman Yanti via locating the ancient Veladin, and to stop the evil witch, Sofia from mandating raids on the villages of Gort. The characters' distinct personalities and the changes they endure bring about some deeper complexities to the story. The plot line is also rich with parallel and underlying sub-plots that will have readers entangled in its grasp until the end. Obviously, a prior knowledge of the series is an advantage, however as a stand-alone read the intrigue intensifies as more and more facets are revealed.
Indie, Kai, Nima, Jabar and young Willem are tested at every turn as they evade soldiers, uncover old truths of Kalika legends, persevere with ferocious and enigmatic beings, determine who they can trust and above all, believe in themselves to protect the most important things – their family. They need to understand the spirit world and how the elements – air, water, fire, earth, and the fifth, Akasha (the spark of life) come together to join forces in protecting the land and themselves. Characters are faced with the ultimate dilemma of falling under the spell of someone who, in reality you should be able to trust; as mother/aunt Sofia releases their innermost fears to set a false strength and use this against them.
Karen paints a detailed world of atmosphere, imagination and magical wonder in her descriptions. The book highlights the values of family love, self-belief and environmental care and sustainability, and these will be carried throughout the whole series. Readers from age nine will literally get swept away in the midst of drama and fantasy with The Howling Sands, leaving them breathlessly awaiting the next adventure.'
Romi Sharp, Just Write for Kids Australia



Elephant Journal USA
'I loved Kalika Magic, I read it on holidays and couldn't put it down. Loved the messages and mystical magic woven through the story.' 
The Umbrella Foundation, Nepal
'Our Umbrella kids are loving Kalika Magic!'
Find out more about the Umbrella Foundation
The  Waldorf School of Atlanta, USA
'The students at The Waldorf School of Atlanta did a book study on The Shaman's Secret, and have been excited to continue the adventure. Even though they are on Summer vacation, these students are about to start Kalika Magic ~ The Emerald Child. So Excited.'

 Workshops and Talks
 
Children's Book Council – Lunch with the Stars 2017
Book Week 2017
School Visits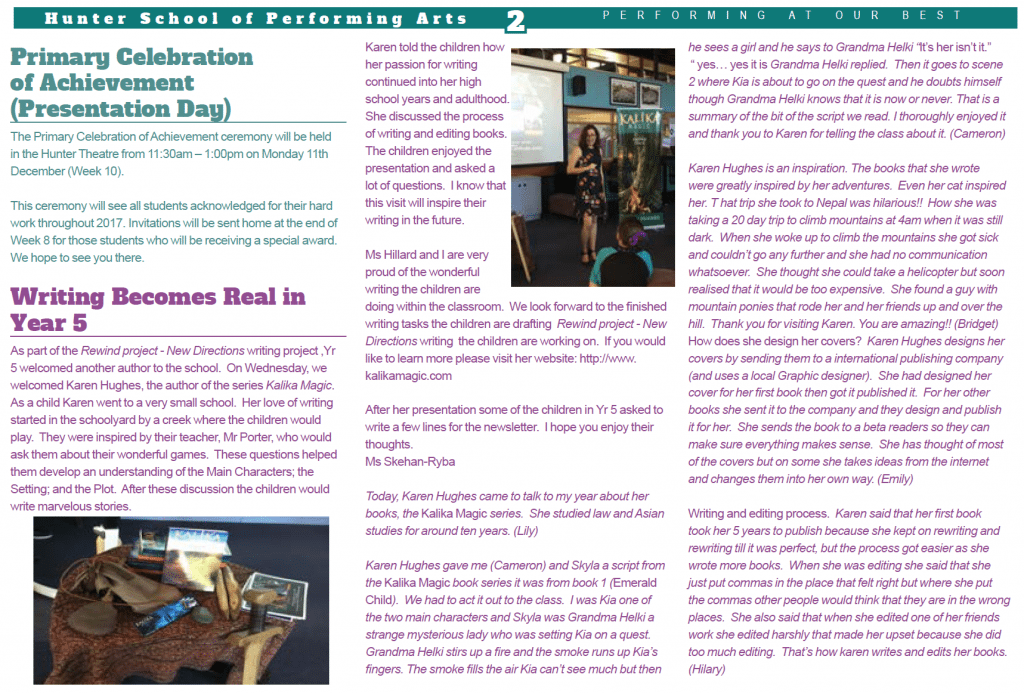 Children's Book Council of Australia – Lunch with the Stars 2016



International Women's Day
'Thank you for all that you brought to our International Women's Day event this week – your intelligence and openness were all appreciated by the panel and audience. I am very grateful for the generous gift of your time and your community-mindedness.'
– Keryl Collard, City Librarian
Meet the Author
Newcastle Writers Festival
'Thank you on behalf of the Newcastle Writers Festival and Newcastle Library for your time, energy, help and support today.' – Katrina McKelvey, President of Children's Book Council Australia (Newcastle) 
Rotary District Conference Cruise


Inspirational Alumni, ANU College of Law

Book Launches


















Letters from the kids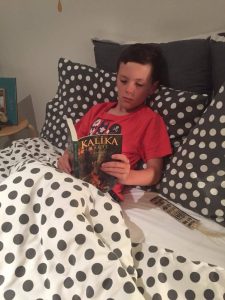 '… As I read through the book, it felt like I was in the story. When I came closer to the end, I got even MORE excited about what was going to happen. When I finished the first book, I started to read the next one straight away. They were SOOO good. I was actually sad that I had finished both of them … I can't wait to read all your books!!! In the last year that I have been reading, this is definitely my FAVOURITE book!!!' – Maeli, 11, Hong Kong
'I hope you are making as many books as Harry Potter or more because I can't wait to read them.'– Hudson, 11
'I can't tell you how much I loved your book. Hopefully the second book comes out soon because I will read it 12 times! Once again, thank you heaps.' –Ella, 12
'Your book was super amazing. I think I'll be your First Customer to buy your book. The whole class loved it, especially me! It was sooooo fascinating, your book, I can't wait till the next one, and the next one, and the next one, and all the other next ones. Please come to my school and read the next book when you finish it.' – Frances, 12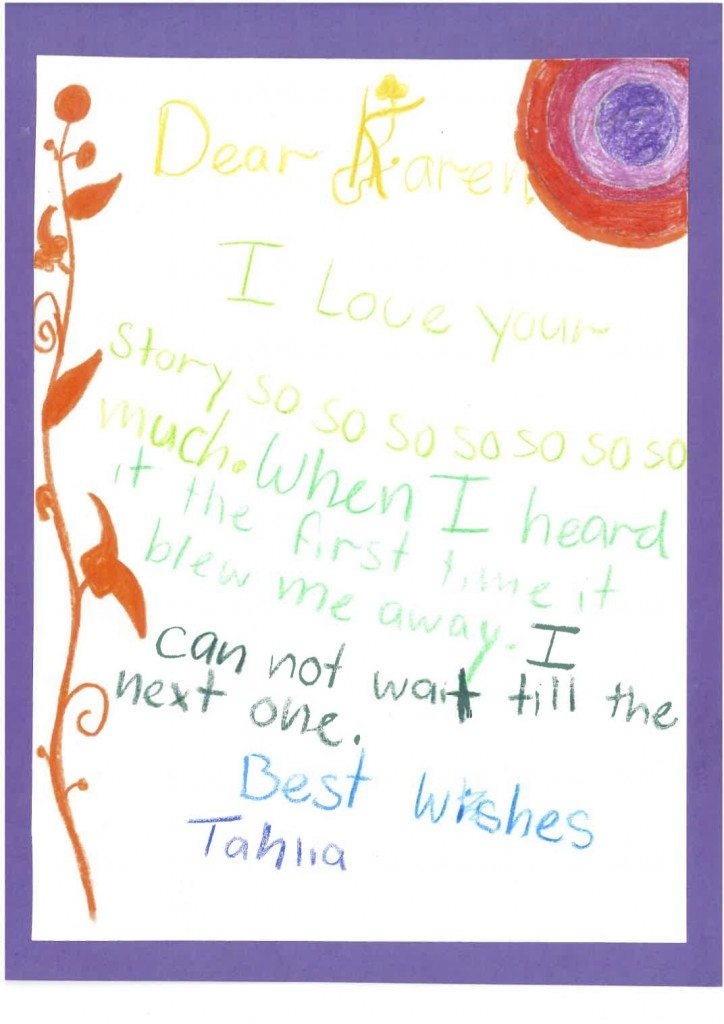 'My mum and little brother met you on Saturday at the Newcastle Library. You signed copies of your books for me and Jimmy. Thank you!! What will your next book be called? I can't wait to read it. We are re-reading Emerald Child now. My favourite thing in the books is the sword of Veladin. Jimmy's favourite thing is the spirit animals. My favourite character is Kai. …' – Charlie
'Your book is one of the best books I have ever read! Thank you soo much for coming in and reading to us, and I really want to read your 2nd book, your 3rd book and if you write a 4th. Thanks once again.' – Sophia, 11
'I can't wait until the next book comes out, I'll buy the whole series.' – Josh, 10
'I love your story so so so much. When I heard it the first time it blew me away. I can not wait till the next one.' – Tahlia, 11
'I think your story is the best story in the whole world.' – Nyima, 10
'Your book was great. I felt like I was right there.' – Reuben, 11
And the mums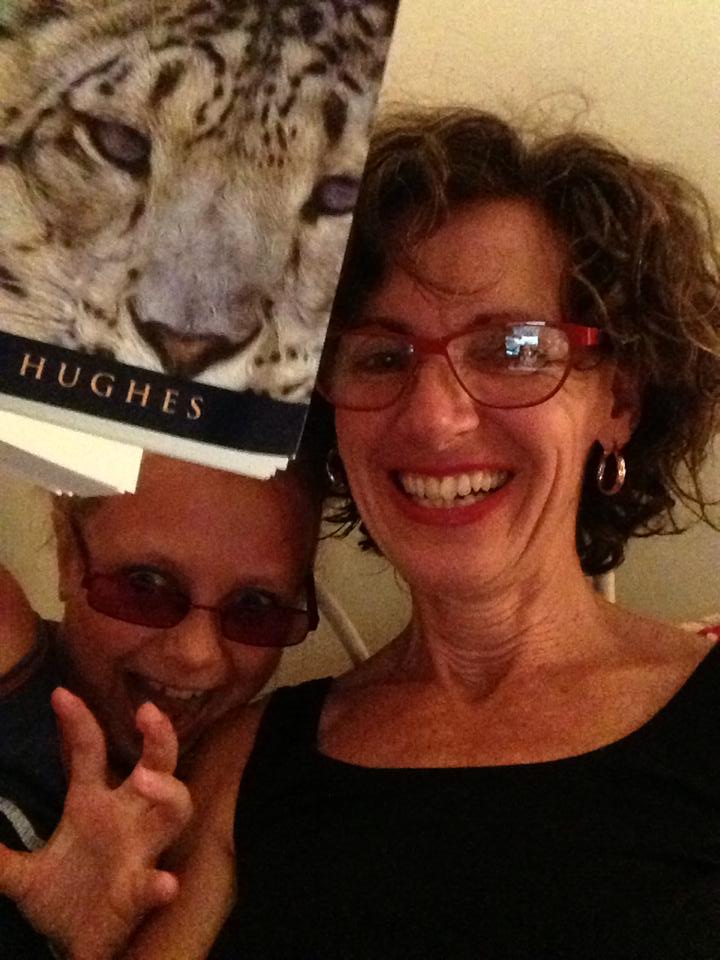 'Bedtime isn't a problem any more. Emma can't wait until we continue reading The Shaman's Secret! Lights out are a problem, though …' – Derice
'Lochy loved the first one and asked for these for his birthday – thanks!' – Elisa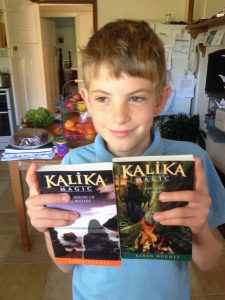 'Yeshi went to bed reading and woke up reading, came down the stairs reading and went to the toilet reading. He just closed the pages and spoke for the first time this morning and said that he really likes your book. To truly understand how engrossing it must be, you have to take into account the fact that the moments when Yeshi isn't speaking are very few!' – Linda
'Oliver devoured this book in an afternoon. It was far too good to put down. When is the next one out?' – Jodie
'Oscar is itching to read the next one!' – Jenna
'My daughter was given the first book as a gift and she could not stop reading it. It is the first book she has picked up that she has not wanted to put down. She is overly excited about receiving the second book as well. Thanks! She told me to tell you your books inspire her to read.' – Lora, USA
'Look, your book is in Malaysia! Izzy is loving it.' – Kirsty, Hong Kong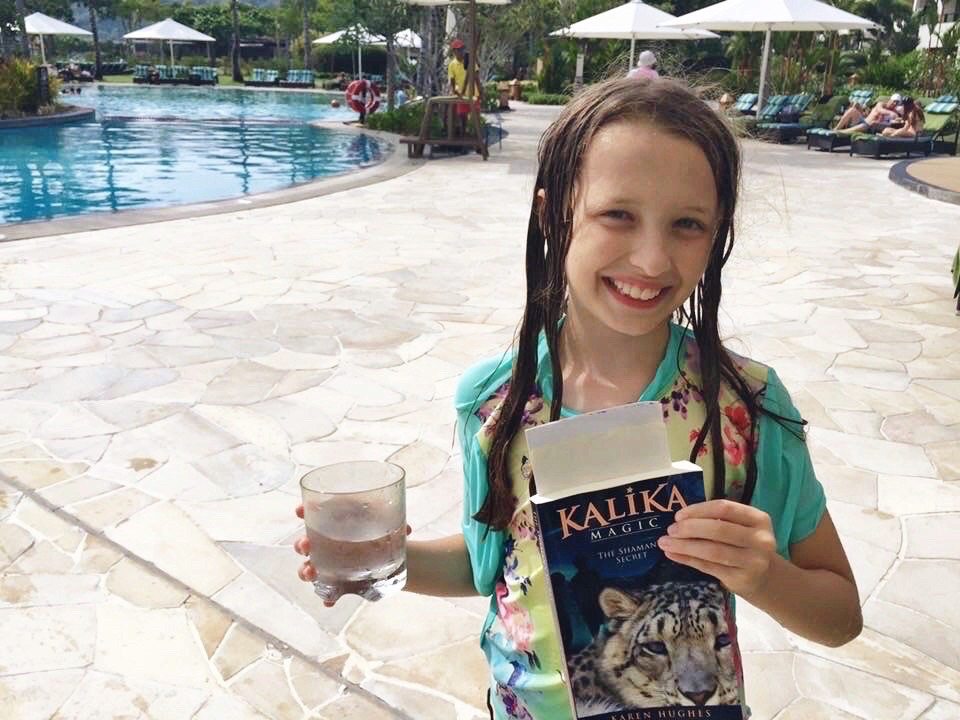 ---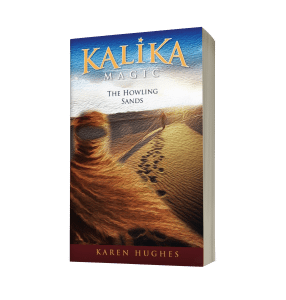 An intelligent, junior fantasy novel that will reel young readers into the series
by Brydie Wright
Format: Paperback
'Kalika' has been likened to many fantasy classics and the first thing that came to mind for me, was Tolkien's The Hobbit and The Lord of the Rings series. This legendary writer and his books represent what the fantasy genre is all about: – an extraordinary web of characters, the presence of mythical creatures, complex worlds, societies, cultures and languages, the threat of impending battle and good vs. evil.
In just the space of one 360-page book, Hughes employs and manipulates all these classic 'totems' of the genre; no mean feat in terms of storytelling. And by all suggestions, the continuing narrative that has come before, establishes the never-ending quest, to no lesser a degree.
 A great read  By Susan Day  – Format: Paperback
I love reading new books that are written for children who are ready to sink their teeth into longer more complicated stories.As you can judge from the cover this is no fairy story, but it is a great book for mature kids who want to read something of substance. The characters are realistic, and it is so important for young readers to have characters which they can love and others they wonder about. It's part of their growing ability to learn to accept their own feelings and trust their instincts within the safety of a book's pages.
Apart from the characters, the plot is amazing and I'm sure kids won't want to put this book down until they have finished it. So, expect an argument if they have started reading this just before bedtime! Once hooked, I'm sure your children will want to read the whole series.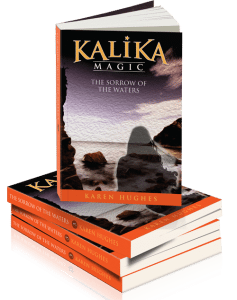 Soulful adventure, lived fully.
By Lou Trevena 
Format: Paperback
Wonderful and a delight filled adventure. I read this story to my 11 year old, even though I had not read a loud to her for years, it gave us both a gift of connection, courage, possibility and magic that lives in our hearts Thank you Karen Hughes 100 fold <3
Best book ever!
By Maeli Ormiston 
Format: Paperback
I'm 11 years old and loved this book, It was amazing!! As I turned the pages, my mind was in the book. I could never stop. I am so anxious for the next books to come out! Maeli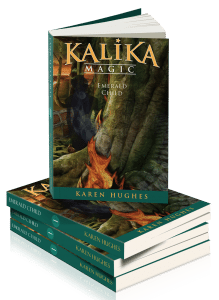 Intelligent storytelling at its finest.
By Cal 
Format: Paperback
A delightful and intelligent story from a clearly gifted author. My daughters were absorbed with it from the start and still comment on it being amongst their favourites.
My daughter loves Kalika Magic books! I quite often …
By Paul 
Format: Paperback
My daughter loves Kalika Magic books! I quite often find her with her torch at night reading when she should be asleep lol.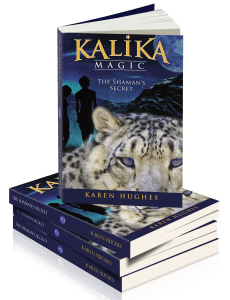 We both really enjoyed it. Loved the strong girl characters
By K. McCulloch – Published on Amazon.com
Format:Kindle Edition
Just finished reading this book with my 9yo daughter (albeit the paperback copy). We both really enjoyed it. Loved the strong girl characters, and how it switched back and forth in perspective between the two kids (sister & brother). I think my 13yo son will also enjoy it. I think it would have been a bit hard for Ms 9 to read on her own I think. Probably we should have read book one first though…

Awesome 
By Harry Ward – Published on Amazon.com
Format:Kindle Edition
This book is an exceptional book. I read it in about 1 hour. To be perfectly honest with you I first started this book about 20 weeks ago and I only got up to the 6 page. I didn't love it. But now I have read it fully I love it.
Well done author
An amazing story


By Grandma 
This review is from: The Shaman's Secret (Kalika Magic Book 2) (Kindle Edition)
What an amazing original story! I read it with my granddaughter and it was the highlight of our week.When is the next one coming out?
 What a wonderful adventure for younger readers
By Bluesky (Australia)
This review is from: The Shaman's Secret (Kalika Magic Book 2) (Kindle Edition)
What a wonderful adventure for younger readers. I was completely taken into the worlds of mystics and powers. A great read.
Wolfmagic
By Amazon Customer "Ravaging Myths Author" (Las Vegas, NV)
Verified Purchase
This review is from: The Shaman's Secret (Kalika Magic Book 1) (Kindle Edition)
Best book ever but it says the next books coming out November 2014 and it's past that time and still not out.
 What a great read
By Marc Patron
This review is from: The Shaman's Secret (Kalika Magic Book 2) (Kindle Edition)
Magic, mystery and plenty of surprises. Don't worry about the kids, buy it for yourself.

An empowering & fascinating read that inspires confidence!
By AliBaba from ex Sydney Au
About Me
Bookworm
PROS
Deserves Multiple Readings
Easy To Understand
Informative
Inspirational
Relevant
Well Written
CONS
NONE
BEST USES
Gift
Older Readers
Self Esteem Building
Special Needs
Travel Reading
Younger Readers
Comments about The Shaman's Secret:
Some of the most inspiring young fiction I have read in many years! It helps to channel everyday negative emotions into positive actions by empowering the innate loving & human spirit in us all.
It's also funny & the characters seem like your family after a chapter or two!
I'm just looking forward to the next 10 books now!
BOTTOM LINE
Yes, I would recommend this to a friend

Great book for children
By Mia's Mum from Ex Sydney, AU
About Me: Everyday Reader
PROS
Deserves Multiple Readings
Easy To Understand
Well Written
BEST USES
Gift
Younger Readers
Comments about 'The Shaman's Secret':
An exciting book for children aged 9-11. My 10 year old daughter loved it.
BOTTOM LINE
Yes, I would recommend this to a friend
By Bookworm
from Sydney
ABOUT ME
Bookworm
Verified Reviewer
PROS
Deserves Multiple Readings
Easy To Read
Engaging characters
Informative
Page-Turner
Well Written
BEST USES
Gift
Travel Reading
Younger Readers
Comments about 'The Sorrow of the Waters':
My 11-year old daughter loves the Kalika Magic series. She is eagerly awaiting the next one !
BOTTOM LINE
Yes, I would recommend this to a friend